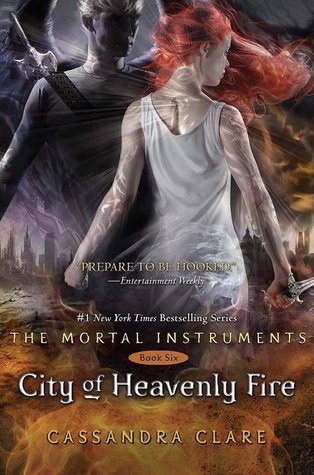 "In this dazzling and long-awaited conclusion to the acclaimed Mortal Instruments series, Clary and her friends fight the greatest evil they have ever faced: Clary's own brother.
Sebastian Morgenstern is on the move, systematically turning Shadowhunter against Shadowhunter. Bearing the Infernal Cup, he transforms Shadowhunters into creatures out of nightmare, tearing apart families and lovers as the ranks of his Endarkened army swell.
The embattled Shadowhunters withdraw to Idris – but not even the famed demon towers of Alicante can keep Sebastian at bay. And with the Nephilim trapped in Idris, who will guard the world against demons?
When one of the greatest betrayals the Nephilim have ever known is revealed, Clary, Jace, Isabelle, Simon, and Alec must flee – even if their journey takes them deep into the demon realms, where no Shadowhunter has set foot before, and from which no human being has ever returned…
Love will be sacrificed and lives lost in the terrible battle for the fate of the word in the thrilling final installment of the classic urban fantasy series The Mortal Instruments!"
– Taken from Goodreads (https://www.goodreads.com/book/show/8755785-city-of-heavenly-fire)
I really don't know what to say about this book. I do know I didn't like it. And I stick to the opinion that she should have ended this series with City of Glass.
For starters, I don't think Sebastian was a good villain. His father, Valentine, was far better for a very simple reason: he was actually right in some aspects. There are things that the Clave does that are wrong. He wanted to change them. His methods, however, were extremely wrong, and that is why he was the villain. As for Sebastian, he doesn't seem to have a higher ideal, he doesn't seem to want to change anything. As Alfred said in The Dark Knight, 'Some men just want to watch the world burn'. Sebastian was evil for the sake of being evil. His allegations of hating his mother for abandoning him and all that jazz are not enough, for me, to justify the scale of destruction he causes.
As for the other characters, Jace and Clary were just annoying. If they were real, I'd keep well away from them. And some of their scenes were just too bizarre.The other characters were not that well done either. I didn't have one POV I wanted to read more than others. I just wanted to get to the end of this and see how Sebastian would be vanquished. Furthermore, the author just kept pushing and pushing Emma to the spotlight. I get it, she is the main character of the next Shadowhunter series. But she is going to star the next series, she is not the star of the this one.
Plotwise, this was a disaster, for me. The whole book (and it's a massive book) just keeps trying to build and build the tension, and then I nearly missed the final showdown, it was so short. I actually had to turn back the pages to check if that was it. I was expecting something bigger. The way it was done just felt too… Easy. At points, the whole thing just made me so annoyed I almost threw my Kindle against something. When I finally finished this monster of a book, all I felt was relief, that I was done with it. Not because so and so survived, so and so got their happy ending. No, it was just because it was over.
Rating: 1.5 out of 5