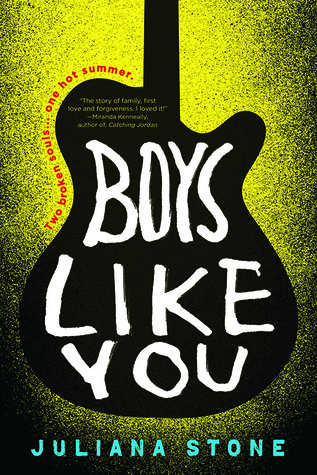 "One mistake.

And everything changes.

For Monroe Blackwell, one small mistake has torn her family apart –leaving her empty and broken. There's a hole in her heart that nothing can fill. That no one can fill. And a summer in Louisiana with her Grandma isn't going to change that…

Nathan Everets knows heartache first-hand when a car accident leaves his best friend in a coma. And it's his fault. He should be the one lying in the hospital. The one who will never play guitar again. He doesn't deserve forgiveness, and a court-appointed job at the Blackwell B&B isn't going to change that…

Captivating and hopeful, this achingly poignant novel brings together two lost souls struggling with grief and guilt – looking for acceptance, so they can find forgiveness."
– Taken from Goodreads (https://www.goodreads.com/book/show/18215057-boys-like-you)
I'd like to thank NetGalley and SOURCEBOOKS Fire for providing me with a free copy in exchange for an honest review.
This book, like most of the NA books I have read, portrays deeply troubled main characters. Monroe and Nathan have both made mistakes in the past, mistakes that had terrible consequences (one more than the other). And they cling to those mistakes, refusing to let them go, which was a bit annoying at parts.
As it is often the case, they are yearning for forgiveness, without really understanding that the only people that can forgive them and give them some peace are themselves. And it's when they finally start knowing each other that they realize that. By then, however, the book is nearly over, which doesn't let us see them happy, without carrying the weight of the world on their shoulders. And I'd say that's what I missed the most. After all the angst the two of them put me through, I really wanted to see them carefree for a few chapters.
Rating: 2.5 out of 5