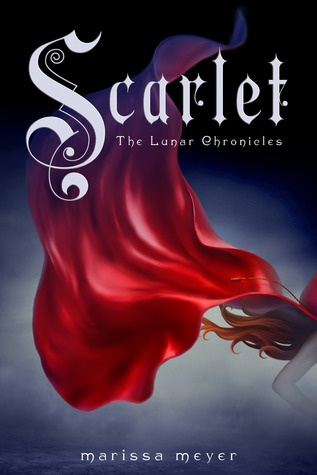 "Cinder, the cyborg mechanic, returns in the second thrilling installment of the bestselling Lunar Chronicles. She's trying to break out of prison–even though if she succeeds, she'll be the Commonwealth's most wanted fugitive. Halfway around the world, Scarlet Benoit's grandmother is missing. It turns out there are many things Scarlet doesn't know about her grandmother or the grave danger she has lived in her whole life. When Scarlet encounters Wolf, a street fighter who may have information as to her grandmother's whereabouts, she is loath to trust this stranger, but is inexplicably drawn to him, and he to her. As Scarlet and Wolf unravel one mystery, they encounter another when they meet Cinder. Now, all of them must stay one step ahead of the vicious Lunar Queen Levana, who will do anything for the handsome Prince Kai to become her husband, her king, her prisoner."
– Taken from Goodreads (https://www.goodreads.com/book/show/13206760-scarlet)
Where Cinder is a retelling of Cinderella, Scarlet is a retelling of Little Red Riding Hood. Because I absolutely loved Cinder, I was expecting Scarlet to join its prequel in my list of surprisingly good books. Alas, it was not to be. For some reason, I couldn't like Scarlet as much as I liked Cinder. Because of this, whenever a chapter focused on her came up, I'd turn the pages hoping that the next would bring a chapter focused on Cinder. Cinder's chapters were not all good, though. I thought Thorne's character was somehow overdone. I can't really put my finger on it, but I didn't love the guy. If it were me, I'd have left him behind somewhere, accidentally on purpose.
Plotwise, it wasn't as gripping as Cinder. Granted, we learned more about where Cinder came from, and that was something I was really curious about, but still, the whole thing didn't come together the way I'd expected it to. My biggest hope was dashed at the end, in an extremely heartbreaking scene, set in Paris.
Maybe I couldn't like Scarlet as much as I like Cinder because the tale of Little Red Riding Hood is not as close to my heart as Cinderella's (come on, I watched Disney's Cinderella over and over again. My mom still can't hear the songs without cringing. And yes, I know that Disney's Cinderella is a far cry from the original tale). As the tale of Rapunzel is not as dear to me either, I will read Cress with lower expectations (yes, I will be reading it).
Rating: 3.5 out of 5