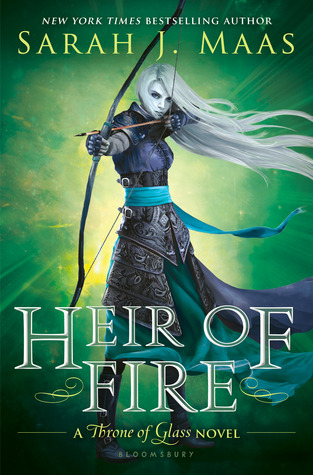 "Lost and broken, Celaena Sardothien's only thought is to avenge the savage death of her dearest friend: as the King of Adarlan's Assassin, she is bound to serve this tyrant, but he will pay for what he did. Any hope Celaena has of destroying the king lies in answers to be found in Wendlyn. Sacrificing his future, Chaol, the Captain of the King's Guard, has sent Celaena there to protect her, but her darkest demons lay in that same place. If she can overcome them, she will be Adarlan's biggest threat – and his own toughest enemy.
While Celaena learns of her true destiny, and the eyes of Erilea are on Wendlyn, a brutal and beastly force is preparing to take to the skies. Will Celaena find the strength not only to win her own battles, but to fight a war that could pit her loyalties to her own people against those she has grown to love?"
– Taken from Goodreads (https://www.goodreads.com/book/show/20613470-heir-of-fire)
I'd like to thank NetGalley and Bloomsbury Publishing Pic for proving me with a free copy in exchange for an honest review.
After the ending of Crown of Midnight, I couldn't wait to get my hand on Heir of Fire. And, when it became available for request on NetGalley, I requested it, but, given the amount of request they probably got for that, I really didn't think I'd get a copy. When I did, let me tell you, it made my day (that's the mild version, there was some internal screaming involved. I was at work, after all, I had to behave).
While reading it, though, I lost some of my excitement. Celaena was too angsty for too long, in my opinion, which made for some excessively long breaks in pace. In this book, Manon Blackbeak, a new character, stole the show. Her chapters were better than Celaena's and Chaol's. There were several moments when all I wanted to do was to try and shake Celaena out of her passiveness. Do I understand her situation? Yes, she was grieving. But days and weeks passed and she didn't react, and that was the annoying part.
As for Chaol, his first chapters were so-so, but then, with the addition of some new characters, they improved a lot. Dorian didn't really get a lot of pages in this book, but his plot thickened so much, especially toward the end. His very last scene had me sitting on the edge of my seat and thinking 'No no no no!!!'.
I don't know if this is the final version or if there is time for one more revision before the book goes to print, but I really hope that, if they do revise it again that they cut some scenes to try and improve the pace. While the beginning didn't impress me, the ending was far better, and left me eager for the next book.
Rating: 3 out of 5