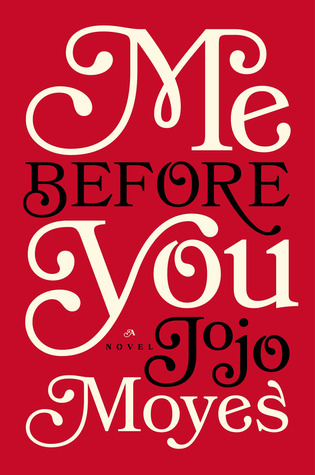 "Lou Clark knows lots of things. She knows how many footsteps there are between the bus stop and home. She knows she likes working in The Buttered Bun tea shop and she knows she might not love her boyfriend Patrick.
What Lou doesn't know is she's about to lose her job or that knowing what's coming is what keeps her sane.
Will Traynor knows his motorcycle accident took away his desire to live. He knows everything feels very small and rather joyless now and he knows exactly how he's going to put a stop to that.
What Will doesn't know is that Lou is about to burst into his world in a riot of colour. And neither of them knows they're going to change the other for all time."
– Taken from Goodreads (https://www.goodreads.com/book/show/15507958-me-before-you)
When I first started reading this book, I thought it was going to be a fluffy and light read. It wasn't. It made me think about controversial issues and it wasn't an obvious story at all.
I disliked some characters from the start, such as Treena. She came across as very selfish in her choices. I get it, she had a kid while in college and dropped out. It can happen to anyone. What I find unacceptable is her decision of just going back to college without really giving a thought if the family's financial situation can afford that. Patrick was another annoying character. His fixation with all things fitness was too much.
I could sympathize with Will, one of the main characters. His situation is, in my opinion, one of the worst medical situations out there (the worst being degenerative diseases). After some reflection, I could accept his choice. It was not an easy choice, but it felt right to me.
The ending was heartbreaking, but right. It was really nice to see how much Lou grew throughout the book (she was a bit annoying at the beginning, but she got better).
Rating: 3 out of 5