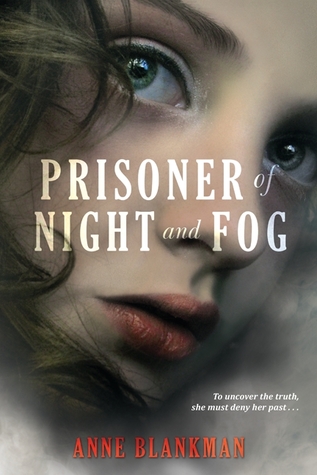 "In 1930s Munich, danger lurks behind dark corners, and secrets are buried deep within the city. But Gretchen Müller, who grew up in the National Socialist Party under the wing of her "uncle" Dolf, has been shielded from that side of society ever since her father traded his life for Dolf's, and Gretchen is his favorite, his pet.
Uncle Dolf is none other than Adolf Hitler. And Gretchen follows his every command.
Until she meets a fearless and handsome young Jewish reporter named Daniel Cohen. Gretchen should despise Daniel, yet she can't stop herself from listening to his story: that her father, the adored Nazi martyr, was actually murdered by an unknown comrade. She also can't help the fierce attraction brewing between them, despite everything she's been taught to believe about Jews.
As Gretchen investigates the very people she's always considered friends, she must decide where her loyalties lie. Will she choose the safety of her former life as a Nazi darling, or will she dare to dig up the truth—even if it could get her and Daniel killed?
From debut author Anne Blankman comes this harrowing and evocative story about an ordinary girl faced with the extraordinary decision to give up everything she's ever believed . . . and to trust her own heart instead."
– Taken from Goodreads (https://www.goodreads.com/book/show/17668473-prisoner-of-night-and-fog)
This book had a horrifying opening scene. The blurb had already implied that scenes like that would happen, but I hadn't expected one of them to be the very first scene in the book. It was a brutal way of making me understand what I could expect from Prisoner Of Night And Fog.
Even though this story centers on a badly explained death, it was not the mystery that pulled me in. It was character growth and change. Gretchen, our main character, has grown under Uncle Dolf's influence and protection. At first, Uncle Dolf seems quite sweet, albeit a bit quirky, like that weird uncle we all have. But then, as events unfolded, he morphed more and more into Adolf Hitler, the man that went down in History as the mind behind the Holocaust. And watching that change happen through Gretchen's eyes was mesmerizing.
Another very interesting aspect was how Gretchen changed her view of Jews. In her sheltered life, she had never had any contact with Jews, and had no reason to doubt what she learned about them. And when that changes, it's really interesting to see her faltering in her beliefs, and then tossing them aside.
Plotwise, there is the mystery element. It is interesting and well done, but not enough to sell the book on its own. I was more fascinated by the growing danger that Gretchen is in than in the murder resolution. Given the timeframe, I think it's a given this danger will only increase in the sequel.
Rating: 4 out of 5