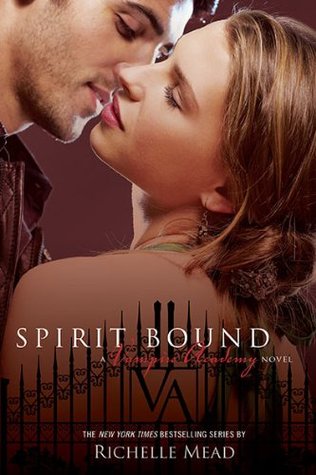 "Dimitri gave Rose the ultimate choice. But she chose wrong…
After a long and heartbreaking journey to Dimitri's birthplace in Siberia, Rose Hathaway has finally returned to St. Vladimir's-and to her best friend, Lissa. It is nearly graduation, and the girls can't wait for their real lives beyond the Academy's iron gates to begin. But Rose's heart still aches for Dimitri, and she knows he's out there, somewhere.
She failed to kill him when she had the chance. And now her worst fears are about to come true. Dimitri has tasted her blood, and now he is hunting her. And this time he won't rest until Rose joins him… forever."
– Taken from Goodreads (https://www.goodreads.com/book/show/6479259-spirit-bound)
For me, this was not as good as the previous books in the series. It was not for lack of action, but I felt this lacked believability. For one, Rose is truly blinded by love. She has absolutely no qualms in breaking someone out of jail. Someone that tried to kill her and Lissa. Whatever happened to They come first? Not to mention the sheer craziness of it. Running away from school, kind of okay. Breaking a condemned person from prison? Nope, not okay.
It's hard to review this book without giving much away. But I'm going out on a limb here: the whole Dimitri thing was a complete mess. Dimitri's reaction was completely understandable. Rose's reaction was completely irrational. Then again, I guess she was blinded by love. And Eddie! That kid doesn't exist, I think. Too much loyalty and no self-preservation instinct.
The saving grace of this book was the ending. If it weren't for that cliffhanger, I'm not so sure I would have read Last Sacrifice so soon after this one.
Rating: 3 out of 5