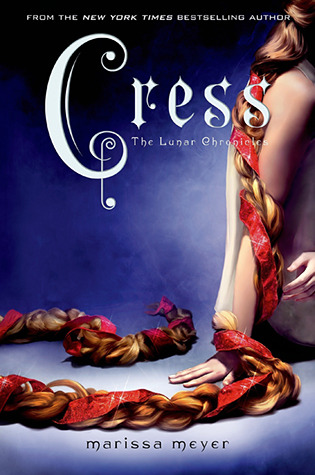 "In this third book in the Lunar Chronicles, Cinder and Captain Thorne are fugitives on the run, now with Scarlet and Wolf in tow. Together, they're plotting to overthrow Queen Levana and her army.
Their best hope lies with Cress, a girl imprisoned on a satellite since childhood who's only ever had her netscreens as company. All that screen time has made Cress an excellent hacker. Unfortunately, she's just received orders from Levana to track down Cinder and her handsome accomplice.
When a daring rescue of Cress goes awry, the group is separated. Cress finally has her freedom, but it comes at a high price. Meanwhile, Queen Levana will let nothing prevent her marriage to Emperor Kai. Cress, Scarlet, and Cinder may not have signed up to save the world, but they may be the only hope the world has."
– Taken from Goodreads
After the slight disappointment that was Scarlet, Cress brought the series back to track. It's not that I didn't like Scarlet, but I didn't like it as much as I liked Cinder. With Cress, however, it was a different story. I liked Cress, the title character. She was, of course, naïve, but who wouldn't be, after spending years alone in a satellite?
I felt the story moved faster as well. With the crescent cast of characters and being split into more POVs, it became more dynamic, and some of the characters became easier to like in this book. Thorne, namely, was one of them. He is still an arrogant twat, but he somehow became softer in his arrogance. If I had to rank the characters, Scarlet and Wolf would be at the bottom of my list. I just can't really like them, I don't know why. Who made the top of my list? Iko, definitely! I love her and her timing (or lack thereof).
In this book, we also got scary glimpses of the next title character, Winter. I am not looking forward to her POVs, they promise to be literraly crazy… But I am most definitely going to read the next book. I need to know how the whole thing ends! So many unanswered questions!
Rating: 4 out of 5