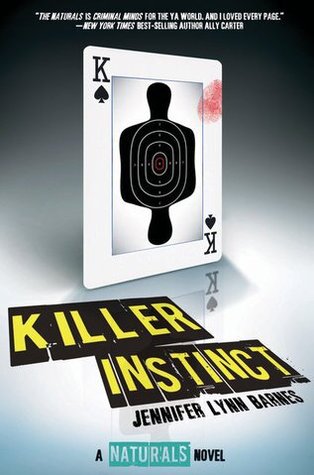 "Seventeen-year-old Cassie Hobbes has a gift for profiling people. Her talent has landed her a spot in an elite FBI program for teens with innate crime-solving abilities, and into some harrowing situations. After barely escaping a confrontation with an unbalanced killer obsessed with her mother's murder, Cassie hopes she and the rest of the team can stick to solving cold cases from a distance.
But when victims of a brutal new serial killer start turning up, the Naturals are pulled into an active case that strikes too close to home: the killer is a perfect copycat of Dean's incarcerated father—a man he'd do anything to forget. Forced deeper into a murderer's psyche than ever before, will the Naturals be able to outsmart the enigmatic killer's brutal mind games before this copycat twists them into his web for good?
With her trademark wit, brilliant plotting, and twists that no one will see coming, Jennifer Lynn Barnes will keep readers on the edge of their seats (and looking over their shoulders) as they race through the pages of this thrilling novel."
– Taken from Goodreads
I'd like to thank NetGalley and Disney Book Group for providing me with a free copy in exchange for an honest review.
In the first book, The Naturals, the main lesson was that no one is above suspicion. In that book, the killer was someone surprisingly close to the program. In this book, I was kept guessing until the very end. I never could have guessed the real identity of the killer. I suspected, however, that some of the suspects were too obvious, and waited to find out who the actual culprit was.
I was very intrigued by the new character introduced in the very beginning, Agent Sterling. She had something going on for her, as Cassie's profiling of her made evident. Her full story, however, only comes to light toward the end. And it made me respect her. The dynamics between the teenagers didn't change that much, until, again, the end. Michael and Dean were both annoying at several moments. They had their reasons, granted, but still, there were scenes were I just wanted to throttle them.
As for the love triangle, it was apparently solved in this book, thankfully. I don't particularly care for them, and this one didn't impress me.
Given that the first book revolved around Cassie's past and this one revolved around Dean's past, I'm guessing we will see killers somehow related to the other three kids (Michael, Lia and Sloane), something I would really like. By the end, it was quite obvious that there will be a sequel, though there is no information yet about the next book.
Rating: 4 out of 5