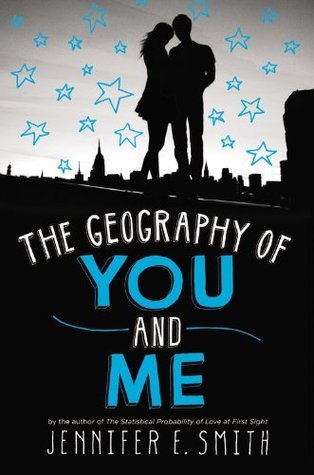 "Lucy and Owen meet somewhere between the tenth and eleventh floors of a New York City apartment building, on an elevator rendered useless by a citywide blackout. After they're rescued, they spend a single night together, wandering the darkened streets and marveling at the rare appearance of stars above Manhattan. But once the power is restored, so is reality. Lucy soon moves to Edinburgh with her parents, while Owen heads out west with his father.
Lucy and Owen's relationship plays out across the globe as they stay in touch through postcards, occasional e-mails, and — finally — a reunion in the city where they first met.
A carefully charted map of a long-distance relationship, Jennifer E. Smith's new novel shows that the center of the world isn't necessarily a place. It can be a person, too."
– Taken from Goodreads.
This was a pretty unremarkable book for me overall. It wasn't exactly boring, but it was dull. While I was reading this, I had the feeling that nothing was really happening, other than a lot of moping around.
I don't think I could be friends with either of the main characters. They were both too hesitant for me. They were unable to ask even the simplest questions, and that is made very evident in a scene between Lucy and her mother at the end of the book. It started out quite well, but after they leave, it was just a lot of nothingness and shuffling back and forth. Plotwise, there is not much going on either. That was just the thing, it felt too much like a real life, if that makes any sense. And that made it uninteresting for me.
After reading this and one other work from her, I'd say that her books are not for me. Again, this wasn't boring and it was well written. But it's not I want out of my books.
Rating: 2 out of 5