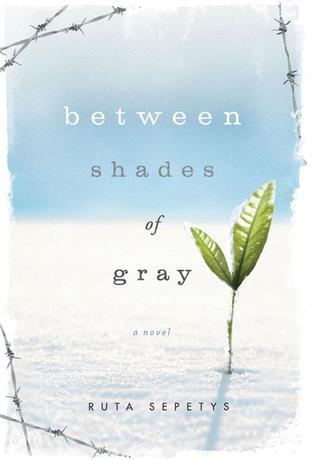 "Lina is just like any other fifteen-year-old Lithuanian girl in 1941. She paints, she draws, she gets crushes on boys. Until one night when Soviet officers barge into her home, tearing her family from the comfortable life they've known. Separated from her father, forced onto a crowded and dirty train car, Lina, her mother, and her young brother slowly make their way north, crossing the Arctic Circle, to a work camp in the coldest reaches of Siberia. Here they are forced, under Stalin's orders, to dig for beets and fight for their lives under the cruelest of conditions.
Lina finds solace in her art, meticulously–and at great risk–documenting events by drawing, hoping these messages will make their way to her father's prison camp to let him know they are still alive. It is a long and harrowing journey, spanning years and covering 6,500 miles, but it is through incredible strength, love, and hope that Lina ultimately survives.Between Shades of Gray is a novel that will steal your breath and capture your heart."
– Taken from Goodreads
Somehow, I was expecting more out of this book. Nearly every review stated that this was a tearjerker. I have to confess that I didn't cry while reading this. I guess the imagery just wasn't strong enough for me. This does not mean I'm a cold, heartless person. I cried my eyes out with "Schindler's List", especially because of the girl in the red dress.
Did I know that Stalin's rule killed millions of people in forced labor camps? Yes. But, for some reason, the Western front of World War II gets more attention than the Eastern front. Both instances were horrifying crimes against humanity, and both instances deserve to be remembered through books and movies and memorials in the hopes it doesn't ever happen again.
While I could see that Lina's situation was awful, I couldn't feel it. Most of the narrative was too detached, as if she had retreated into herself to avoid dealing with the horror of her situation. There were some strong turns of phrase here and there, but they were too few and far between.
Lina's mother annoyed me at times. I understand she was trying to shelter her children, but her optimism was a bit too much for me. Again, maybe she had to cling to that hope that everything would be okay in the end, but I, as a person, don't relate to that. However, I don't think I'd have made it as far as she did. It's more likely that I'd kill myself at some point. Different people, different reactions.
My biggest issue with this book was the ending. After hundreds of pages of one bad thing after the other, I was hoping for a glimpse of happiness, and I didn't get it. A longer epilogue, with more information about what happened to the survivors after they were liberated would have been nice. I do think the author could have afforded to write ten or twenty pages about what happened afterwards.
Rating: 3 out of 5