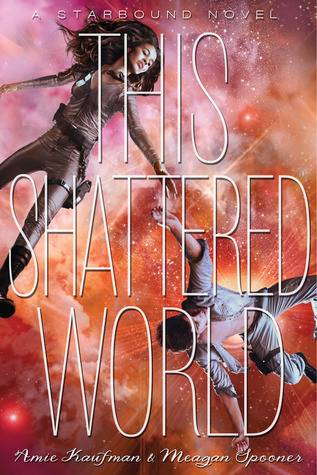 "The second installment in the epic Starbound trilogy introduces a new pair of star-crossed lovers on two sides of a bloody war.
Jubilee Chase and Flynn Cormac should never have met.
Lee is captain of the forces sent to Avon to crush the terraformed planet's rebellious colonists, but she has her own reasons for hating the insurgents.
Rebellion is in Flynn's blood. Terraforming corporations make their fortune by recruiting colonists to make the inhospitable planets livable, with the promise of a better life for their children. But they never fulfilled their promise on Avon, and decades later, Flynn is leading the rebellion.
Desperate for any advantage in a bloody and unrelentingly war, Flynn does the only thing that makes sense when he and Lee cross paths: he returns to base with her as prisoner. But as his fellow rebels prepare to execute this tough-talking girl with nerves of steel, Flynn makes another choice that will change him forever. He and Lee escape the rebel base together, caught between two sides of a senseless war."
– Taken from Goodreads
First off, that is one gorgeous cover! It's still the first week of the year and we already have a serious contender for most beautiful cover of 2015! I love how it reflects the characters background, with Jubilee actually dressed in spacial military garb and Flynn wearing an outfit that has seen better days and also carrying a weapon. I also love the colors and the title typography (not sure how I feel about the authors' typography).
While this shares a plot arc with its predecessor, These Broken Stars, this is set in a completely different environment, with a different set of characters, and a different subplot. That said, I did miss some sort of recap from the first book, considering it came out a year ago and over 200 books were read between them. On the other hand, I do realize, given that this is about different characters etc., how hard it would be.
My memories from These Broken Stars are a little (okay, a lot) fuzzy, but I seem to remember it having more romance than this one. It's not necessarily a bad thing, but I missed it, as Flynn and Lee have loads of chemistry together. A very positive thing here was the absence of a love triangle and of insta-love. In fact, there was a quote that I absolutely loved and that shows the lack of insta-love here:
"I don't have the luxury of dealing with his hormones -or mine, for that matter. What, did he think I was just going to melt into his arms? Start a tragic and dramatic tale of star-crossed lovers on a war-torn planet?"
While there was a slight shortage of romance, there was plenty of action. There was double-crossing, scapegoating, chases, kidnappings… Again, because I didn't remember much of the first book, the plot wasn't easy to figure out beforehand. So, if you want to keep things mysterious for this book, don't go digging for a recap of These Broken Stars.
In terms of characters, I felt they were very nicely done. Lee was a strong heroine, of Asian descent, and she knew what it meant to be a part of a military organization, and reading her struggle with that was really nice. While Lee was world-weary and pragmatic, Flynn was more of a dreamer, a talker.
I was, for some unfathomable reason, expecting this to end in a more dramatic note. Then again, the main characters do not have the political significance of Lilac, from the first book. But I still felt it missed some sort of bang at the end.
Now I have to wait until December (Patience is not one of the many virtues that I possess *ahem*) for the end of this trilogy. Given what we have learned so far, it should be a blast!