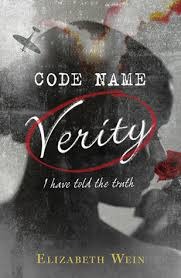 "Oct. 11th, 1943-A British spy plane crashes in Nazi-occupied France. Its pilot and passenger are best friends. One of the girls has a chance at survival. The other has lost the game before it's barely begun.
When "Verity" is arrested by the Gestapo, she's sure she doesn't stand a chance. As a secret agent captured in enemy territory, she's living a spy's worst nightmare. Her Nazi interrogators give her a simple choice: reveal her mission or face a grisly execution.
As she intricately weaves her confession, Verity uncovers her past, how she became friends with the pilot Maddie, and why she left Maddie in the wrecked fuselage of their plane. On each new scrap of paper, Verity battles for her life, confronting her views on courage, failure and her desperate hope to make it home. But will trading her secrets be enough to save her from the enemy?
A Michael L. Printz Award Honor book that was called "a fiendishly-plotted mind game of a novel" in The New York Times, Code Name Verity is a visceral read of danger, resolve, and survival that shows just how far true friends will go to save each other."
-Taken from Goodreads
I love historical fiction as a genre, no matter the historical setting, and I have a strong interest in military history, particularly World Wars I and II. That being said, I felt that this book fell a little flat for me. I was expecting more from a book with such a hype.
The way this book was built made it clear that we weren't seeing the whole scene. The setup for a twist was obvious from the start, and then, when that twist happened, my reaction was 'Wait, is that it? Is that all of it?'. It was not as momentous as the setup led me to believe, and that frustrated me quite a bit. You see, I only kept reading in the hopes that the twist would be worth my while. It wasn't.
Verity, our title character, annoyed me. I didn't see what the point was to what she was doing. All that information that is given just went over my head. While reading, I was going, 'Okay, but why are you telling me this?'. <spoiler> You see, there are many, many, many things that are quite specific to England. Therefore, if you're not British, you'll miss what the character is actually doing. </spoiler>.
At around 60%, there is a change in POV, that is quite an improvement. The reprieve was temporary for me, however. I found myself just skipping the pages to get to the end. And the end, when it finally came, was not as momentous as I thought it would be.
This is not, to sum it up, a WWII book that I would recommend.